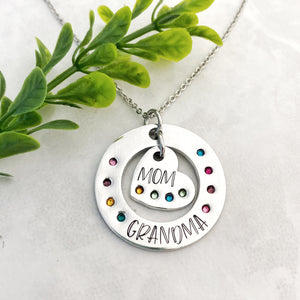 Give grandma the gift of this custom handmade necklace with all her kids' birthstones and grandkids' birthstones! The stamped "mom" heart can hold up to 4 birthstones and the "grandma" open circle can hold up to 12. 
The entire pendant measures 1.25" inches on shiny, tarnish free aluminum with a stainless steel chain. The birthstones are made of Swarovski crystal. 
If you would like a custom design with more kids or grandkids than this design allows for, just send me a message! 
Use the Personalization box to indicate if you want something other than "mom" and "grandma" and which birth months to include on which piece.